Beach Scenes
Cross Brothers

︎︎︎ Purchase
Label: Endless Melt
Year: 2021
Daniel Cross: Guitar
Patrick Cross: Guitar
Duncan Blachford: Percussion
Recorded, mixed & mastered by Patrick Cross
Design: Duncan Blachford


'Excellent destructo rock/amplifier damage … cross classic Dead C non-instrumentalism with almost Jandek-levels of blunt No Wave refusal. Kinda makes The Blue Humans sound like Last Exit!'—David Keenan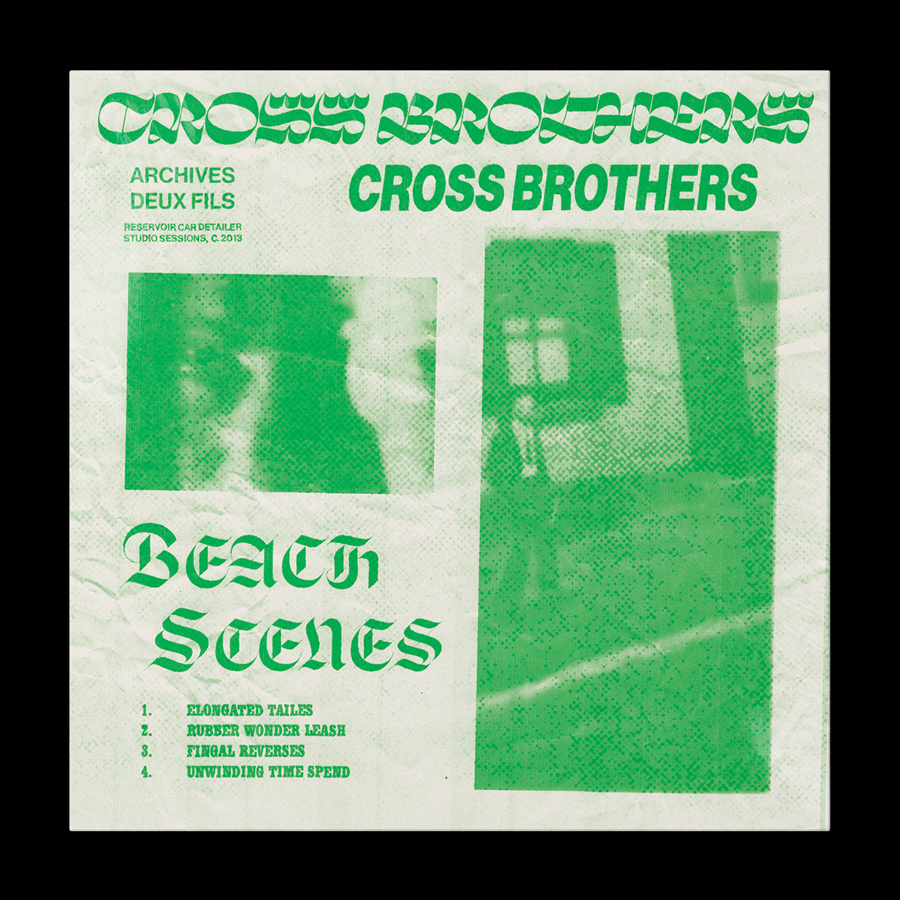 The Best Experimental Music on Bandcamp
By Marc Masters · August 31, 2021

It's been eight years since Australian group Cross Brothers released their last album, a
live tape
. Not long after that gig, they recorded a proper album, but it hasn't seen the light of day until now.
Beach Scenes
contains four long tracks of crashing, woozy, presumably-improvised rock damage, exploring territory close to the deconstructions of their neighbors in New Zealand, the
Dead C
. But Cross Brothers—actual brothers Daniel Cross and Patrick Cross on guitar, with Duncan Blachford on drums—put their own stumbling stamp on this vein of room-clearing noise. Take "Rubber Wonder Leash," which starts with a hypnotically-plodding beat then piles on curling feedback streams until the whole band seems to melt away—only for them to recover again and heavily reclaim the beat.
—Marc Masters
The Cross Brothers are Tasmanian mainlanders, Daniel and Patrick Cross. If you're a student of the subterranean Tasmanian music of the late twentieth century, you'll probably be familiar with the Cross's: Daniel played in 50 Million Clowns (with Sean Bailey of Lakes); The Gentlemen (with Dave Elk aka Drunk Elk); Karen Carpenter; Rentboy; and Secret Valley (among others); while Patrick played in Midnight Caller; Avoidable Droid; Rentboy; Drunk Hands; and Goodgrief Commune (among others).
In 2012, the brothers were joined by fellow ex-Taswegian, Duncan Blachford (of Exhaustion; Rubbish Throwers; Drunk Hands; Goodgrief Commune; Psychic Baggage; Keith's Yard, et al) behind the kit, to perform an improvised set in their former hometown of Hobart. The show was crudely documented on their 2013 cassette Live at Rat Palace – described by David Keenan as "slowly expiring nod-out rhythms that would cross classic Dead C non-instrumentalism with almost Jandek-levels of blunt No Wave refusal. Kinda makes The Blue Humans sound like Last Exit!"
On their return to Victoria, the brothers performed as a trio several times in Melbourne – cutting this diverse slab of avant-clang before going into hibernation. Nearly a decade later, Beach Scenes has been excavated from the trenches, presenting a comparatively hi-fidelity companion piece to Live at Rat Palace. Recorded, mixed and mastered by Patrick Cross in an industrial outposting of Reservoir, Victoria – Beach Scenes offers up four longform tracks which evolve over sixty minutes; shifting from delicate, amplifier chimera to bludgeoning antipodean destructo rock; surging twin-guitar tectonics backed by frenetic percussive splatter – a massively wrangled dose of freeform munk.